Happy Tuesday everyone, and hello to my new Fabulous Friends. It really warms my heart that you are interested in what goes on in my head. I would like to thank you all for all your lovely comments too, it really makes this girl feel good. I look forward to getting to know you all.
So while my
Banana Bread
is baking in the oven, time to grab a mug of coffee and make my Tuesday morning visit to Patrice and her Chats on the Farmhouse Porch
Here are this weeks questions, and my answers
1. What was your favorite game as a child?
I spent a lot of time at my Grandmas when I was growing up playing with my cousins. We played French Skipping, Ball Against the Wall and made a 'house' in the woods behind Grandmas. In wet weather, we pretended to be fashion designers, or made up dances to 70's records on a scratchy old record player
2. Have you ever had your own business? (home business, a shop, Etsy, lemon-aid stand, etc)
I used to have a Village Craft Shop, which sold knitting, tapestry, cross stitch and patchwork supplies. I loved it. Im an avid cross stitcher, so it was like being a kiddie in a sweet shop
3. How's your spelling?
Not too bad. I have loved reading since I was a child, and I think that always helps with spelling. The biggest problem I have is I still write the British way when writing to American friends..eg.. favour, colour, saviour, etc.
4. How are you about going to the dentist?
I hate needles, but going to the dentist isnt too bad. Im trying to convince myself because I have to have a wisdom tooth out on Thursday
5. Do you enjoy board games?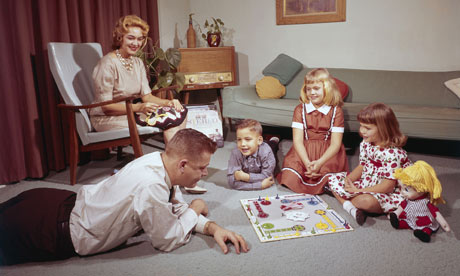 Love them. We have always played them as a family. Monopoly, Scrabble, Trivial Pursuit and Cluedo are amongst the favourites. And of course, like the family in the picture, we NEVER have arguments.
Thank you Patrice for the great questions
Love and Hugs
Phoebe x